A stretch of beach at least 100m in length is recommended. The site should be divided into 10m segments, which can be marked using sticks of bamboo. Within each segment, a square of 50cm by 50cm should be selected at random and also marked using Saté sticks and string. Random site selection can be done using a random number generator such as the one at https://www.random.org/ to give distances in meters to locate the site within each segment. A number between 1 and 10 should be selected for the location along the beach, and a number between 1 and ~50 for the distance from the ocean (depending on the width of the beach, it should be before vegetation starts).
Microplastics protocol
Adapted from Arocha's Guidelines for sampling microplastics on sandy beaches
Collection
Materials
2 buckets
Water filter fabric (with 100-300 um plastic mesh)
Elastics
Measuring tape
Saté sticks
String
Small metal shovel
Metal sieve 5mm mesh
Metal sieve 1mm mesh
Metal Tweezers
Magnifying glass
Glass jar with a date & location
Clipboard & form
Cotton towel
Methods
Filter sea water

Cover the filter fabric over one bucket and hold it in place with an elastic
Slowly pour ocean water into the bucket to filter out any micro plastics
Once done cover the bucket

Prepare the research area

Locate and mark your sampling location with a bamboo stick
Stand downwind from the sampling location
Using the stick as the top right corner, measure and mark a 50cm by 50cm square with bamboo sticks and string
Pour filtered water over the square to hold the sand in place

Collect sample

Use a small metal shovel to dig 5 cm deep
Put the top 5cm of sand into a bucket
Take out pebbles, shells, wood or seaweed and wash them with filtered seawater using the fine mesh strainer to catch any micro plastics
Use a magnifying glass to double check for any remaining microplastics
Put the large items back at the beach and any micro plastics into the glass collection jar

Filter sample

Place a 5mm mesh on top of a 1mm mesh
Use a metal spoon to put sand in the 5mm mesh and wash the sand through with filtered seawater
Whatever gets through the 1mm filter stays at the beach
Put what is left in the 1mm filter into the glass collection jar
Check the top 5mm filter for micro plastic
Take them out with tweezers
Put them in the glass collection jar
Throw the rest of the sand back on the beach
Analysis
Materials
For analysis:
Glass dishes
Black and white paper cards
Light
Magnifying glass
Tweezers
Teasing needles
Saté sticks
Microscope
Ruler
Glass storage jar
Labels
Marker / pencil
Data sheet
Camera
Methods
Put the sand from the jar in a glass bowl with filtered sea water
Stir the dish to release pieces from each other

The microplastics should float

Place black and white paper under the bowl to see different plastics
Shine a light over the water to see transparent films
Take out pieces with metal tweezers and place them in a petri dish

Organic pieces may disintegrate when prodded

Identify micro plastics under a microscope or magnifying glass

Classify micro plastics according to the photo guide below
If you see cell structures under a microscope it is organic and not plastic

Take a picture of each piece and overall collection
Record findings in form below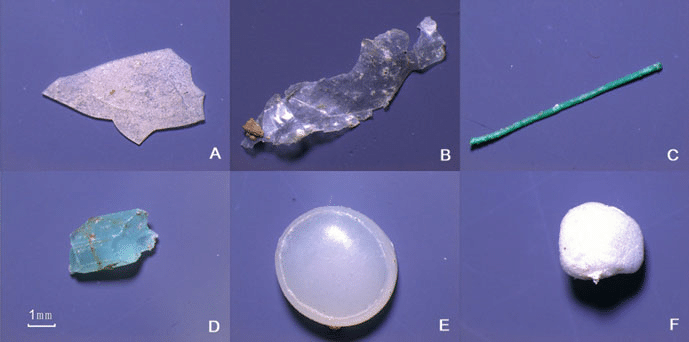 Shapes of typical microplastics collected from inland waters Qinghai Lake and Three Gorges Reservoir in China|Shapes of typical microplastics collected from inland waters (Qinghai Lake and Three Gorges Reservoir) in China (a, sheet; b, film; c, line/fiber; d, fragment; e, pellet/granule; f, foam)<ref>Microplastic Pollution in Inland Waters Focusing on Asia – Scientific Figure on ResearchGate. Available from: https://www.researchgate.net/figure/Shapes-of-typical-microplastics-collected-from-inland-waters-Qinghai-Lake-and-Three_fig1_321203508 [accessed 3 Sep, 2019]</ref>]]
| Category label | Type of plastic | Quantity found |
| --- | --- | --- |
| A | sheet | |
| B | film | |
| C | filament/string | |
| D | rigid | |
| E | pellet | |
| F | foam | |
Macroplastics protocol
Adapted from Guideline for monitoring marine litter on the beaches in the OSPAR maritime area
Materials
Clipboard with a form to keep track of what is collected
Bag to fill in the plastic waste
Bag for non plastic waste
Small container for cigarette butts
Reusable gloves
Methods
Work in teams of 3 with 2 cleaners and one note taker.
Take a picture of your section before you start
Collect waste:

Write down what you pick up below
Put cigarette butts in a separate container

Take a picture after you finish
Take the bag(s) back to homebase
Take a picture of the filled bags
Weigh bags and write down the total in the form
If you're working with other teams feel free to join them
| Type | # of pieces | Weight |
| --- | --- | --- |
| Plastics | | |
| Cigarette butts | | |
| Metal | | |
| Glass | | |
| Rank | Most common types of waste found: |
| --- | --- |
| 1 | |
| 2 | |
| 3 | |
| 4 | |
| 5 | |
| Rank | Most common plastics found: |
| --- | --- |
| 1 | |
| 2 | |
| 3 | |
| 4 | |
| 5 | |
Budget
The budget for equipment necessary for 10 groups to study a length of 100m in Boca Grandi, along with locations in Aruba where the items can be purchased, is detailed in the table below. This equipment is also available from Metabolic Foundation for people in Aruba to borrow in order to carry out research on local beaches.
{| class='wikitable'
|-
!Store
!Cost
!Items
|-
|Island Asia
|Afl.66.56
|Towels, needles, rulers
|-
|Win Tung Home Center
|Afl.2.39
|Magnifying glass
|-
|Aruba Supplies & Distribution
|Afl.26.51
|Spoons
|-
|Office Systems Aruba
|Afl.65.65
|Labels, paper, clipboards
|-
|Do It Center Camacuri
|Afl.71.73
|Buckets, shovels
|-
|Kooyman Megastore
|Afl.329.80
|Gloves, buckets, tubs, markers, twine, markers
|-
|Wu's Excellent Hardware & Homecenter
|Afl.29.30
|Shovels
|-
|Win Tung Home Center
|Afl.132.24
|1mm sieves, magnifying glasses
|-
|Flora Aruba NV
|Afl.19.00
|Bamboo sticks
|-
|Island Asia
|Afl.19.56
|Glass dishes
|-
|Tat Fat Home Depot
|Afl.21.74
|Tile drill bit, hardware
|-
|Aruba Supplies & Distribution
|Afl.79.50
|5mm sieves
|-
|Do It Center Shaba
|Afl.98.90
|Tape measure, flashlights
|-
|Win Tung Home Center
|Afl.141.67
|Fine sieves
|}
Related links
https://marinedebris.noaa.gov/sites/default/files/publications-files/noaa_microplastics_methods_manual.pdf