Carbon trading
CARBON TRADING
In one of our first efforts to showcase the value of environmental monitoring to Aruba, and more importantly the value of our coastal ecosystems, we recently pitched a carbon trading assessment proposal to Min. Geoffrey Wever and his team at the Ministry of Economic Affairs, Communication, and Sustainable Development, as an approach to align goals in economic diversification and marine conservation.

The first phase of the project is approved and underway, with an initial task to scope carbon trading potential in Aruba. This will include a review of other similar projects, a satellite based estimate of local blue carbon potential, modeling of other carbon emission reduction impacts, and legal considerations for carbon trading. Blue Carbon is the potential for coastal ecosystems such as mangroves, seagrass and algae to absorb carbon from the atmosphere. It is one of the most powerful nature-based carbon sequestration methods, and one which we have locally available.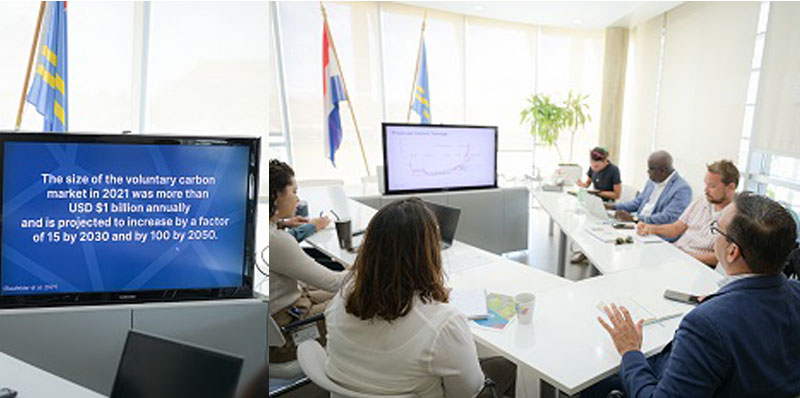 Sailing scientists
A bit randomly, we visited the Sailing Yacht Eugen Seibold, a boat completely dedicated to ocean and climate science from The Max Planck Institute for Chemistry. They have a rotating staff of scientists sampling and analyzing air, seawater, and plankton as they travel the ocean from the coldest to the warmest places. We were lucky to be one of those warm places encountered in their journey.

We met their team when they toured our workshop with the University of Aruba. We showed them our plastic recycling operations (Plastic Beach Party) as well as the work we're doing with Surfside Science. In return they invited us for a tour of their yacht, an amazing floating lab with facilities to sample and measure the ocean and air as they move around the world, and to process and share data as they sail. There is so much scientific equipment on board that they have to be picky what stays on it for the weight. To learn more about the boat
Mangrove restoration
We recently shared our project with the team at Fundacion Parke Nacional Arikok and they asked if we could measure the water quality at Mangel Halto. The mangroves there have been cut off from the ocean, and a lot of them are dying. FPNA are planning to re-open the water circulation to help them survive, so we took some measurements in the mangroves and in the ocean nearby. Once the restoration efforts are in place, we'll help by taking more measurements, to see how the water quality changes.
The need for accessible water quality monitoring came up a few weeks earlier as well, during a presentation at FPNA about a new research project with the University of Aruba to study coral reproduction around the island. The research will also involve observations of the different environmental conditions around coral reefs, part of which will be measuring water quality parameters.